The Carnoustie Prefix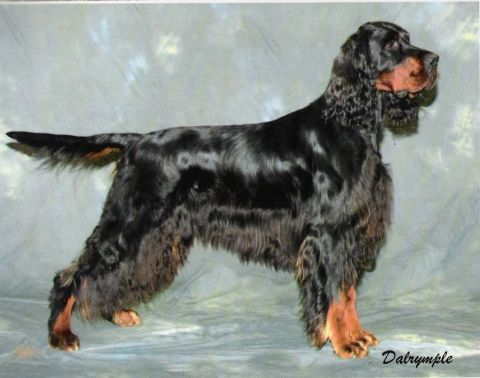 UK Sh Ch Shannas Daimler (Scotland)
(UK Sh Ch Glynderys High'n Mighty With Liric X Shannas Romance)
Please note, the photograph shown above is subject to copyright and may not be copied or reproduced.
The prefix CARNOUSTIE was registered in 1983 and was chosen because it was where Steve's paternal Grandfather Thomas, was born and raised.
For many people, Scotland is above all the home of golf, and if you ask golfers for a list of their top half-dozen courses in Scotland, then it's likely that Carnoustie will feature on most. Carnoustie is found on the coast of Fife, ten miles east of Dundee.
Thomas Bennett married Mary Kirk from Leven, and they moved to Buckhaven in Fife, where three sons were born. Unfortunately their eldest son, seven year old Thomas Laing Bennett, was killed in a tragic accident while playing with friends at an old Dairy in Buckhaven. He is buried at the beautiful East Wemyss Cemetery, just south of Buckhaven.

The remaining family emigrated in 1947 to Broken Hill (the famous "Silver City") in outback NSW, Australia, where Thomas Snr's sons, David and Colin (Steve's father) , found work in the world famous Silver, Lead & Zinc mines.
Contact Details
Steve,Carolyn,Laura Bennett + Sarah Auld & Family
Adelaide Hills, SA, Australia
Phone : SB0414930223-CB0419839259-SA0407653697
Email :
[email protected]